About Us
Safety Pass Alliance (SPA) Ltd is an organisation that design and implement Safety Passport Training Schemes. These are made up from training courses and are delivered through a National Network of accredited training providers.
SPA is committed to providing a nationally recognised standard of health and safety training assurance. Our courses are designed to provide people with an understanding of their health and safety responsibilities at work in compliance with their legal requirements, best practice in health and safety and their organisations health and safety policy.
The Health and Safety Executive (HSE), acknowledge that the cost effective safety passport programme drives good practice through the supply chain increasing safety awareness and contributing to higher standards of safety, health and environment performance.
The Safety Pass Alliance work with Employers, Employer Associations, Trade Unions, National Trading Organisations and other relevant bodies to design and develop training programmes tailored to suit each sector.
SPA have designed and accredited several passports for different sectors. Example;  the UK Petrol Industry Association (UKPIA) along with COGENT (the Sector Skills Council), in the development of a Contractor Petrol Retail Passport which is highly successful and considered best practice within this sector.
In addition, SPA have work alongside the Mineral Product Sector devising and implementing a Quarry Passport in conjunction with MPQC the awarding body for the quarry industry. SPA also work with Production Services Association (PSA) for Live Events Technical Production.
 The Passport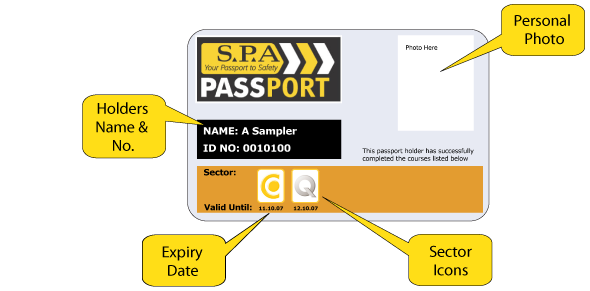 Other training courses attended can be printed on the reverse side.
Overall Benefits of the Safety Pass Alliance (SPA) Limited Scheme