Renewing Your Passport
SPA Passports have a 3 year expiry date*
After the successful completion of the 2 day Core and sector course a passport will be issued with a 3 year expiry date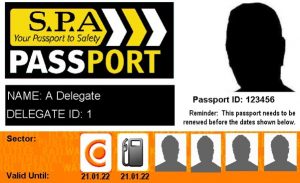 ---
A one day refresher/renewal course can be completed by delegates ONLY if the renewal course falls within a nine month window, all except Petrol Retail, Vehicle Mis-Fuellers, Core Construction and the Mineral Products (previously known as the Quarry passport) – Please read importance notice below!
Six months prior to the passport expiry date and three months after the passport expiry date. This nine month window allows plenty of time to arrange a suitable date for refresher training
We would recommend a date is booked to allow for unforeseen circumstances. A planned refresher course may have to be cancelled last minute and the next available course may run after the expiry window has ended. This will lead to a delegate having to sit the full two day course again!
There will be no time gained or lost when renewing a passport as only the year of expiry will change, the date will continue to fall on the original date
Illustration:
A delegate successfully completes an SPA Core and Sector passport on 12th & 13th March 2019
The delegate will continue to keep the original anniversary date of the course
The delegate will require a refresher/renewal course to fall within:

13th September 2021 (6 months prior) and
13th June 2022 (3 months after)
The delegates' passport will have an expiry date as 13th March 2022.
ONLY if a delegate fails to complete a refresher/renewal course within the 6 or 9 month window will the date of the passport expiry change to the new course date
---
IMPORTANT NOTICES:
SPA Petrol Retail, Vehicle Mis-Fuellers and Mineral Products (previously known as Quarry) Passport Expiry Dates
The current SPA renewal guideline of 3 months after the expiry of passport is no longer acceptable for the above courses. The 3 month 'after rule' is not in the best interests of contractor safety or client liability
Consequently, it was decided that with effect from Monday 2nd April 2012 (Petrol Retail) and 1st March 2013 (Mineral Products) the 3 month grace period will end and the expiry date will be the definitive cessation of the passport
*SPA Core Day Construction (CSCS)
This course has a 5 year programme laid down by CSCS guidelines. The course needs to be renewed on or before the expiry date