Become an SPA Training Provider
Why should I offer the SPA Passport scheme?
SPA is the leading multi-industry Health and Safety training passport scheme. A range of key industry sectors have worked in partnership with us to develop bespoke industry-specific training packages, and we are currently working with more sector partners on new initiatives
SPA's industry-led and nationally recognised scheme reflects proposed syllabus guidance from the Health and Safety Executive (HSE)
The level of demand for the SPA Passport programme is high, and the scheme represents a UK-wide commercial opportunity that will provide new training partners the opportunity to open untapped markets for your business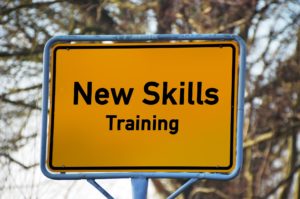 ---
How can I become an SPA Passport trainer?
You will need to hold the NEBOSH Certificate (or greater) as the minimum Health and Safety qualification and you will need relevant training delivery experience and/or a training qualification. You will need to have an accreditation visit which explains the background to the scheme and the administration procedures. You will also attend the Passport training day for each training package that you plan to deliver with an approved training provider.
If, for example, you want to offer the SPA Core Day,  you must undertake the Core Day training and pass the assessments yourself. Some sectors will require trainers to have additional industry-specific knowledge
There are a number of information leaflets available for you, including Prices, Applications and Training Materials Orders. Please click on the links below to download the form(s) you require:
How long does the training take?
SPA training is currently designed to be delivered over one or two days. The SPA Core Day is generic to most industries and forms the first day of training. MPQC has it's own Core Day. The second day, if required, will cover sector specific training
What's in the SPA Passport package?
Each SPA training package includes access to the 'trainer's portal' where all course material is available to download, including; presentations, tutor workbooks, media, administration guides and end assessments
What do successful Delegates get?
A robust, secure plastic photocard that is valid for 3 or 5 years (sector dependent) is given to each participant who successfully completes the SPA training. This Passport is issued within 14 working days of course being submitted and features a photo and the holder's personal ID and information. Passports are printed using a process which embeds the dye into the card – similar to the UK driving licence. Printed cards are then coated with a holocote finish to ensure the Passport is tamper-proof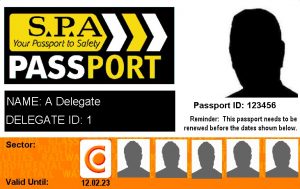 How is the Passport checked?
All Passport details are held by SPA on a central database which can be interrogated by clients for validity
SPA Auditing
SPA audit all accredited training providers every 12 months. This will include an audit of the administrative process as well as a visit from a senior SPA Manager to observe a course being delivered by a trainer. Each trainer must deliver a minimum of one course within a 12 month period in order to remain eligible and, if this is not achieved, a familiarisation course will be required to re-apply
---
Like to know more?
Contact Shirley Lovegrove, SPA General Manager slovegrove@safetypassports.co.uk
01926 817450