Construction giant fined £900k for painter's station roof fall 20 April 2018
BAM Nuttall has been fined £900,000 after a painter fell through a fragile railway station ceiling into a passenger waiting room, sustaining severe ligament damage. He has been unable to return to work as an industrial painter. Its subcontractor McNealy Brown has also been convicted for the incident.
Image credit: HSE. The area where Paul Welstead fell through the fragile roof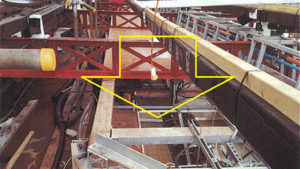 Paul Welstead, who had been subcontracted from a third company, DRH, was carrying out remedial painting works when he fell around 3 m through a suspended ceiling into a waiting room at East Croydon railway station on 7 January 2015.
Croydon Crown Court heard on 18 April that the companies had agreed a £12m contract with Network Rail to undertake the replacement of station floor surfaces, canopy roofs and cladding.
An investigation by the Office of Rail and Road (ORR) found that BAM Nuttall had started work in January 2014. Later that year, McNealy Brown had approached DRH to supply painters for finishing work at the station.
Welstead and his colleague Robert Cutter were given a site induction when they arrived for work on 18 December 2014. However, they were not briefed on the risk assessment which required work over the platforms to be undertaken at night, for workers to wear full body harnesses and for the waiting room below to be locked.
When the pair returned to work on 7 January, they were not warned about the fragile roofs. At about 9.40am while repainting fixings on the station canopy, Welstead lost his footing and fell through the unguarded suspended ceiling.
The court heard a crash deck had previously been installed above the platform buildings but had to be removed to allow the works to finish. Plywood working platforms were specified to replace the deck above the fragile ceiling but had not been installed in the area where Welstead fell and no barriers had been erected, nor warning signs or tape to warn of the risk.
Previous incidents in which tools had fallen from the work area into the platform area below should have provided a warning for the companies of the work at height risk.
BAM Nuttall and McNealy Brown admitted charges under s 3(1) of the Health and Safety at Work Act. BAM Nuttall was fined £900,000 and McNealy Brown £65,000 and had to pay £7,157 in combined costs.
Article published by Nick Warburton deputy editor of IOSH Manager.