The Building Engineering Services Association (BESA) has become the first training provider to fully integrate Site Operating Procedures (SOPs) into its health and safety courses.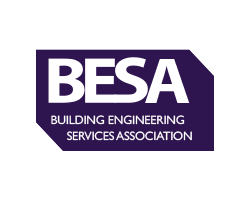 Understanding SOPs will also become a pre-requisite for anyone applying for or updating their SKILLcard so making it a requirement for working on site. The online BESA Academy has embedded a series of mandatory SOP questions into the existing health and safety test that forms part of the SKILLcard application process.
SOPs were developed by the Construction Leadership Council (CLC) to ensure all construction sites could continue operating during the Covid-19 pandemic by following strict guidelines that protected workers and minimised transmission of the virus.
The guidance was regularly updated to reflect changing conditions during the crisis and the requirements are expected to become a long-term part of the construction landscape despite the easing of lockdown restrictions.
During the pandemic, the BESA Academy developed an online SOP training module which leads to a certificate proving the individual worker understands the requirements and has been trained to work safely on site. This standalone module is freely available to all and can be completed online in 15 minutes.
The SOP content is regularly revised to reflect changes in site guidance and has already been updated seven times. Anyone who has already completed the course is automatically alerted to log-in and update their training.
"This is a responsible and forward thinking move," said Rachel Davidson, director of certification at BESA. "Embedding the SOP questions into the SKILLcard process means it will become standard industry practice, which all employers and workforces can follow to make sites even safer.
"Every site operative can now prove they have been trained to work in a competent, compliant and safe manner and are providing further protection against the spread of Covid-19," added Davidson, who has overall responsibility for the Engineering Services SKILLcard managed by BESA.
"While lockdown restrictions are easing and everyone is looking forward to returning to something like normality, we must remain vigilant. The construction industry did a fantastic job during the height of the crisis by managing sites carefully so they could keep operating, but we can't let our guard down now.
"By making SOPs a regular part of health and safety training we can help the whole industry navigate the next stages," said Ms Davidson.
ACR News