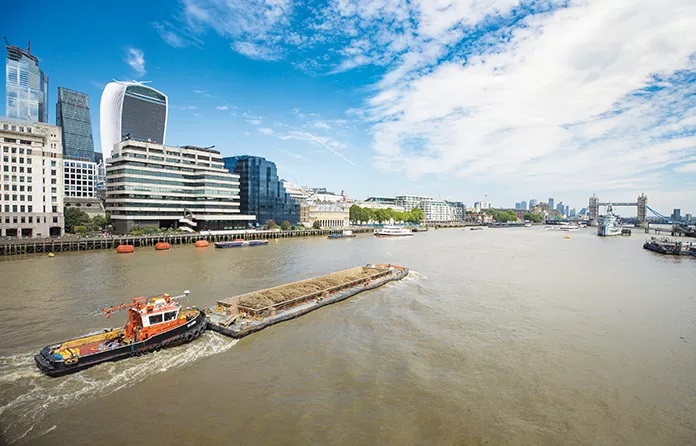 The £4.9bn Tideway tunnel is using river transport to cut road congestion and reduce the project's impact on London's air quality. CM reports.
Tideway is London's latest giant infrastructure project and the spoil excavated will total a staggering 3.7 million tonnes, of which 3.1 million will come from the 25km-long and 7m-wide main tunnel. Transporting all this material by road would normally mean chaos on the capital's roads and pollution choking the air.
"Construction traffic not only adds to congestion, it poses a risk to the safety of other road users and pedestrians and can have a significant impact on local air quality," says Daniel Marsh, from King's College London's Environmental Research Group, which provides air quality information and research in the UK.
However, the £3.8bn Tideway scheme is taking a different logistics approach – transporting over 95% of the spoil from the tunnel and riparian sites via the Thames.
This was a contractual obligation on the 'super sewer' scheme and Tideway says it is investing £54m in its 'More By River' strategy.
The spoil is being taken away using a fleet of over 25 barges, which are towed by tugs chiefly to landfill sites downstream. As well as freeing up roads, Tideway says a study it has commissioned indicates that transporting materials by river has reduced the impact of the project on London's air quality.
"One of our largest 1,600-tonne barges, for example, can carry as much material as almost 100 lorries," explains Tideway head of environmental sustainability Darren White. "This has obvious benefits for cyclists, pedestrians and other road users.
"But beyond that, the new data shows that Tideway's use of the river has dramatic effects on the impact of its work on air quality."
Compared to a modern HGV carrying the equivalent cargo, a tug towing a 1,000-tonne barge will produce up to 95% fewer pollutants (see box).
The tugs are diesel powered, though White says Tideway is "looking into cleaner technology for the engines".
"The air quality benefits of using tugs and barges [instead of lorries] increases when larger barges are used," he adds. "Tideway's barges range in capacity from between 800 and 1,600 tonnes."
The dispersion of emissions from the tugs was also analysed. A comparison of the average tug emission rate with the emission rate from 50 HGVs travelling at 20km/h found the lorries to be 2.3 times higher, Tideway says.
"The study found that average emissions from tug 'Felix' contributed less than 0.13µg/cu m to concentrations of nitrogen dioxide, even at locations very close to the tug," says White. "The European standard for nitrogen dioxide levels is 40µg/cu m." (The concentration of an air pollutant is measured in micrograms – one-millionth of a gram – per cubic metre of air, or µg/cu m.)
White continues: "Given that the tugs will generally travel at distances greater than 50m from the bank of the Thames – and therefore from the closest receptors – the contribution to nitrogen dioxide concentrations from tug emissions at this distance is just 0.01µg/cu m."
Overall, Tideway's use of the river to transport materials has reduced its on-road freight requirement by 72%, a significant reduction in pollution exposure risk for London's population.
Meanwhile, the excavated spoil will end up at riverside receptor sites in Rainham, Ingrebourne Valley, East Tilbury and Pitsea, with the majority being used for landfill restoration. Work on Tideway, which started in 2015 and is now under way at all 24 of its sites across London, is anticipated to be completed in 2024.
Construction Magazine