The UK government is "not doing enough" to remove and replace potentially dangerous cladding on high-rise residential buildings, MPs have warned.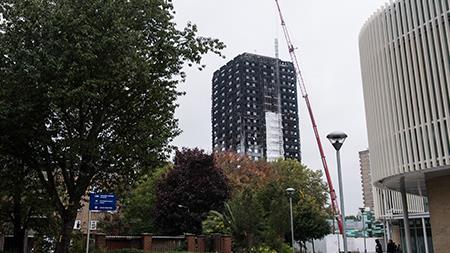 In a report published yesterday, the Housing, Communities and Local Government (HCLG) Committee also accused the government of being "far too slow" to reform the building and fire safety regime, more than two years after the Grenfell Tower fire in west London.  

It said the initial urgency for safety reforms after 72 people were killed in the blaze in June 2017 "appears to have been lost" and progress with combustible cladding removal is "limited". According to government figures from June, unsafe aluminium composite material (ACM), like that used to clad the Grenfell Tower, still remains on 327 high-rise residential and publicly owned buildings in England, which are unlikely to meet the building regulations. Just one building underwent rectification works that month.  
Ministers have committed £600m of funding to remove ACM cladding but not other potentially dangerous systems, such as high-pressure laminate (HPL) cladding, which are also combustible.  
Clive Betts MP, chair of the HCLG Committee, said: "Further delay is simply not acceptable. The government cannot morally justify funding the replacement of one form of dangerous cladding, but not others. It should immediately extend its fund to cover the removal and replacement of any form of combustible cladding – as defined by the government's combustible cladding ban – from any high-rise or high-risk building." 
The report cited evidence from Dr Jonathan Evans, chairman and chief executive of cladding supplier Ash & Lacy, who said: "There are only two grades of high-pressure laminates on the market: there is a fire-retardant grade and a standard grade. We now know that the fire-retardant grade failed this test with combustible insulation in 2014 […] The fire-retardant version of HPL failed more quickly than the fire-retardant version of ACM. If you extrapolate that, it is also possible for the standard-grade HPL, which contains 70% more combustible material."  
The report recommended that the government "should set a realistic, but short, deadline by which time all buildings with any form of dangerous cladding should be fully remediated". It added that "sanctions should follow for building owners who fail to make their buildings safe within a reasonable time frame".  It also criticised the government's lack of progress on updating the building and fire safety regulations. 
Adrian Dobson, executive director of the Royal Institute of British Architects, told the committee that nothing significant, other than the combustible cladding ban, had changed in the building regulations since June 2017. 
"We have had one helpful change, which is the restriction on combustible materials, but other than that the regulatory regime and the regulations remain absolutely the same. We presumably have not only unsafe buildings out there, but we are potentially still constructing unsafe buildings, he said."
Betts said: "Much more progress should have been made on developing a comprehensive building and fire safety framework. This is simply not good enough. It has been over two years since the fire at Grenfell Tower, and more than a year since the publication of the Final Report of the Independent Review of Building Regulations and Fire Safety, and yet the government has only just published a consultation into its proposals for reform of the building safety regulatory system. The government must pick up the pace of reform, before it is too late."
IOSH Magazine