Oil giant Marathon has been handed a £1.16m fine over safety failures that caused more than two tonnes of methane gas to escape from a corroded pipe on one of its North Sea platforms.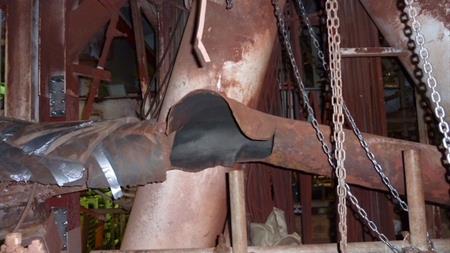 Aberdeen Sheriff Court was told that an eight-inch diameter high pressure pipe in Module 14 of the platform sustained a "catastrophic" rupture because of corrosion under insulation (CUI), allowing the high-pressure methane gas to be released almost instantaneously.   The corrosion was caused by salt water from one of the rig's fire extinguishing systems that used seawater, Energy Voice reported. 
The force of the high-pressure blast caused significant and widespread damage. None of the 100 workers on board the platform were in Module 14 when the rupture happened, with many of them in the accommodation block ahead of their Boxing Day meal. No one was injured.  
The Health and Safety Executive (HSE) said Marathon Oil would have "identified the risk [of CUI] and prevented the hazard from materialising" had it properly inspected the pipework.  These safety failings, it said, exposed workers on board the Brae Alpha platform to an "unacceptable risk of serious personal injury or death" from a fire or explosion.  
Marathon's defence solicitor told the court several improvements have been implemented on the rig to prevent a similar incident re-occurring, including an effective hydrocarbon pipework inspection and maintenance regime.   The solicitor said that after the Energy Institute published updated guidance on managing corrosion in oil and gas production and processing in 2008, Marathon was faced with an "immediate backlog" of inspections to complete and so introduced a system to rank risks by priority. 
Marathon accepted there was a failure in ranking the risk posed by the corroded pipe as "low" but noted it had gas detectors and auto-shutdown technology in place to reduce the risk of fire.  
After the hearing HSE inspector Ahmedur Rezwan said: "Corrosion under insulation is a well-known risk and this incident should not have occurred.  "During any normal period of operations, personnel could easily have been working in or transiting through Module 14 and they would almost certainly have been killed or sustained serious injury. The timing of the incident and fact that the gas did not ignite was fortuitous."
IOSH Magazine