The Petrol Retail Safety Passport is run by the Safety Pass Alliance (SPA) and ensures that contractors working on petrol retail forecourts understand the risks involved. The training programme has been developed and is maintained by the Petrol Retail National Steering Group (PRNSG) whose members include: contractors, trade bodies, Cogent, national trading organisations such as Shell, BP and Esso as well as numerous supermarkets. The PRNSG meet regularly and the passport has been in circulation since 2001.
The Passport scheme has resulted in positive feedback from the industry. Russell Bes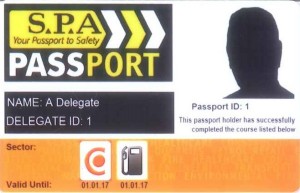 t, HSE Advisor at JET says:   "We require that any contractor employed by JET to work on a forecourt holds a valid Forecourt Passport, this gives assurance that anyone working on our behalf has the same understanding of the hazards of working on a forecourt and the behaviours expected of them.  We would encourage all Forecourt operators to check that anyone working on their site has a valid passport".
There are currently over 16,000 valid petroleum retail passports in circulation across the UK, with numbers continuing to rise. The safety passport is undertaken as a 2 day course and is valid for 3 years, contractors then have the option to take a 1 day renewal course, up to 6 months before the expiry of their current passport. By sitting the refresher course it will not only save the contractor/employer time and money it will also ensure that all contractors understand the risks involved whilst completing work within a Petroleum environment, whether that be on the forecourt or inside the retail store.
Ian Kidger, Safety and Risk advisor for Esso explained; "At Esso we expect the highest safety skills from every individual working on our forecourts. The safety passport provides an essential understanding of the hazards, risks, safeguards, lifesaving rules, and safe behaviours critical to ensuring nobody gets hurt. At Esso we know there is no better start than an SPA passport"
For further information about the scheme or to see who trains the course in your area please visit www.safetypassports.co.uk or call one of the team on 01926 817450.