Safety failings land scaffolding firm in court
Date:

27 November 2014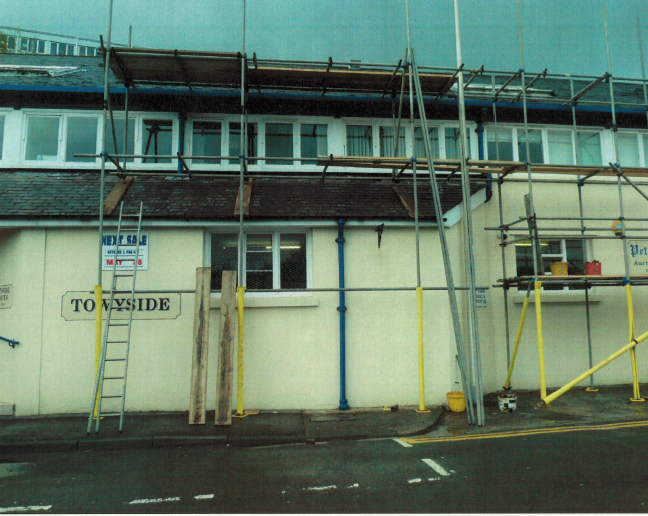 A Carmarthenshire scaffolding company has been fined for safety failings that exposed workers to serious risks of injury from a fall.
It follows an inspection on 22 May 2014 by the Health and Safety Executive (HSE) at a site in Old Station Road, Carmarthen, next to the safety regulator's local office.
At the time, a scaffolder was seen standing on a platform only two boards wide at a height of approximately four metres. There were no guard rails in place or any other means to prevent a fall, such as the use of a harness.
Llanelli Magistrates' Court heard today (27 Nov) that it wasn't the first time that HSE had been forced to take action against Castle Scaffolding (Wales) Ltd for unsafe work at height.
The company had previously received written warnings from HSE. The first occasion in January 2012 resulted in a Prohibition Notice being issued and the second occasion in September 2013 resulted in the company receiving a Notice of Contravention. Both instances concerned unsafe systems of work relating to the erection and dismantling of scaffolding.
Castle Scaffolding (Wales) Ltd, of Old Coal Yard, Tir Onnen, Station Road, St Clears, Carmarthenshire, was fined a total of £10,600 and ordered to pay £2,500 in costs after pleading guilty to breaching Regulation 4(1) of the Work at Height Regulations 2005 and Regulation 5 of the Management of Health and Safety at Work Regulations 1999.
Speaking after the case, HSE Inspector Hayley Healey said:
"While it is fortunate that no-one was injured during the work in Old Station Road, the erection and dismantling of the scaffold was clearly unsafe, and those working on the scaffolding were exposed unnecessarily to high levels of risk.
"Death and serious injury following falls from height are all too common, and proper planning is vital to ensure the work is carried out safely and that the correct precautions are identified and used at all times.
"Castle Scaffolding fell far short of the standards required to ensure that work was carried out in a safe manner. It is of particular concern that the company failed to implement adequate monitoring of health and safety standards following previous intervention and advice by HSE inspectors."
For more information about working at height safely visit the HSE website at:
http://www.hse.gov.uk/falls/index.htm
Notes to Editors
Health and Safety Executive is Britain's national regulator for workplace health and safety. It aims to reduce work-related death, injury and ill health. It does so through research, information and advice; promoting training; new or revised regulations and codes of practice; and working with local authority partners by inspection, investigation and enforcement.www.hse.gov.uk
Regulation 4(1) of the Work at Height Regulations 2005 states: Every employer shall ensure that work at height is (a) properly planned; (b) appropriately supervised; and (c) carried out in a manner which is so far as is reasonably practicable safe.
Regulation 5 of the Management of Health and Safety at Work Regulations 1999 states: "Every employer shall make and give effect to such arrangements as are appropriate, having regard to the nature of his activities and the size of his undertaking, for the effective planning, organisation, control, monitoring and review of the preventive and protective measures; and where the employer employs five or more employees, he shall record the arrangements."
HSE news releases are available at http://press.hse.gov.uk/